Advanced human civilization has lasted about 3000 years. The industrial age is only about 250 years old.
But I, for one, hope mankind is around for much longer than that. And it turns out, I am not the only one.
So, when the nuclear zombie apocalypse comes... where you gonna be? Because if your answer is "downtown NYC" - you know you are screwed.

These sites give you a little more protection, and a little more hope that you or (most likely) someone else will at least be around to see the cockroaches, crows, hogs, seagulls and coyotes take over the earth.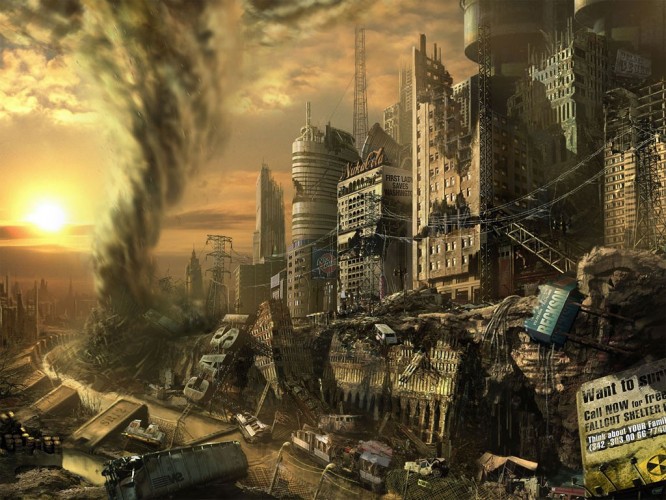 A really bad case of the Mondays
1) The Seed Vault
While most bunkers on this list were built during the cold war when the focus was on building shelters to survive the nuclear holocaust and, most importantly, return fire, today there are those out there who are taking a much longer term approach to keeping the human race going.
In a remote mountainside on the Norwegian tundra sits the "doomsday vault," a global seedbank that could be used to replant the world (it has 400,000 different types of seeds represented). It is remote, it should survive even without outside power sources, and it is secure: "anyone seeking access to the seeds themselves will have to pass through four locked doors: the heavy steel entrance doors, a second door approximately 115 meters down the tunnel and finally the two keyed air-locked doors, keys are coded to allow access to different levels of the facility. Not all keys unlock all doors."
This is a good thing, because when the time for rebuilding the earth comes, this is one of the most important resources the world has... and it clearly would make a pretty damn good James Bond villain base.
2) Raven Rock Mountain Complex, or Site R
Raven Rock Mountain Complex (RRMC) is an underground continuity of government facility built by the U.S. government in the early 1950s. It is located about 14 km (8.7 miles) east of Waynesboro, Pennsylvania, and 10 km (6.2 miles) north-northeast of Camp David, Maryland.
People don't know a whole hell of a lot about it, other than the fact it is an "underground Pentagon" and one of the major backup installations of the US govt. Built of course to ensure continuity of government in the case of nuclear war, it should be able to ensconce a small subset of the human population in relative safety.
What we do know mostly comes from public records:
Site R's "footprint" is nearly 260,000 square feet (24,180 square meters); its total usable floor space is perhaps three times larger. Operated by nearby Fort Detrick, Site R's facilities are designed to handle 3,000 people and include sophisticated computer and communications equipment, a reservoir, medical and dental facilities, dining hall, barber shop, and chapel. Although twenty-four-hour staffing of the site ended in February 1992, by October 1997 more than 500 military and civilian personnel still worked at the facility.5 Construction costs are unknown but likely match or exceed the $1 billion spent on Mount Weather. According to the FYDP, from fiscal 1962 to 1992 (the last year funds were recorded as being expended), maintaining and operating the ANMCC cost more than $1 billion.
Not creepy at all....
3) High Point Special Facility (SF)/Mount Weather: Berryville, Virginia.
The Mount Weather site is an unacknowledged continuity of government (CoG) facility operated by the Federal Emergency Management Agency (FEMA). The 200,000-square-foot (18,600-square-meter) facility, with an estimated floor space of three times that amount, also houses FEMA's National Emergency Coordinating Center, which operates twenty-four hours a day, tracking worldwide disasters, both natural and manmade.
Located on a 434-acre mountain site 48 miles (77 kilometers) (by air) from Washington, D.C., the surface complex includes about a dozen buildings staffed by more than 240 employees. The Bureau of Mines began constructing the facility's tunnels in 1954, which were completed by the Army Corps of Engineers under the code name "Operation High Point." Total construction costs, adjusted for inflation, are estimated to have exceeded $1 billion. Tunnel roofs are shored up with some 21,000 iron bolts driven eight to 10 feet (2.4 to 3 meters) into the overhead rock. The entrance is protected by a guillotine gate and a 34-ton blast door that is 10 feet (3 meters) tall, 20 feet (6 meters) wide, and 5 feet (1.5 meters) thick and reportedly takes 10 to 15 minutes to open or close. In other words, zombie killing sorties will have to be sure they are not followed back to the base.
Completed in 1958, the underground bunker includes a hospital, crematorium, dining and recreation areas, sleeping quarters, reservoirs of drinking and cooling water, an emergency power plant, and a radio and television studio that is part of the Emergency Broadcasting System. From 1961 to 1970, the site was connected to the Bomb Alarm System, a network of sensors mounted on telephone poles adjacent to ninety-nine cities and military bases which would detect a nuclear detonation by its intense thermal flash and signal this event to Mount Weather and other military command posts, permitting both damage assessment and helping to confirm whether or not an attack had occurred. A large electronic map in a special room would indicate via tiny red light bulbs where explosions had occurred (this system was later replaced by more sophisticated space-based sensors).7 A series of side tunnels accommodates a total of twenty office buildings, some of which are three stories tall. Wth an on-site sewage treatment plant that can process 90,000 gallons (340,650 liters) a day and two 250,000-gallon (946,250-liter) aboveground storage tanks, the facility can support a population of 200 for up to 30 days. Although it is designed to accommodate several thousand people (with sleeping cots for 2,000), only the President, the Cabinet, and Supreme Court are provided private sleeping quarters.
4) The Shanghai Complex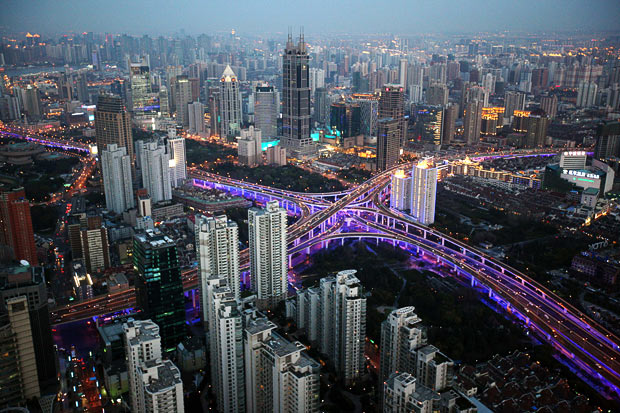 Very little is known about this complex, but what is known is significant. In 2006 The Shanghai Morning Post announced the completion of a million square foot bunker capable of housing up to 200,000 people. This is the largest capacity for a bunker we have ever heard. This shelter was designed to withstand blast, nuclear radiation and poisionous gas emissions. So yes, even after the apocalypse, China will have more people than anyone else.
According to Shanghai Morning Post, 15 tunnels, each of which stretches 4,000 meters, link more than 10 trading centers, office buildings, and residential buildings throughout the city. The complex is equipped with its own power supply, ventilation, and power storage capability, which is able to ensure a daily underground supply for 1–2 weeks. The shelter is also well connected to ground-level railway transportation from southern Xingzhuang region to northern Baoshan, providing flexibility to those seeking refuge from disasters. During non-emergencies, portions of the underground bunker could potentially be used as a commercial garage or storehouse.
Official news stories don't give any official explanation as to the purpose of this facility, but it seems fairly clear.
5. The Greenbriar Bunker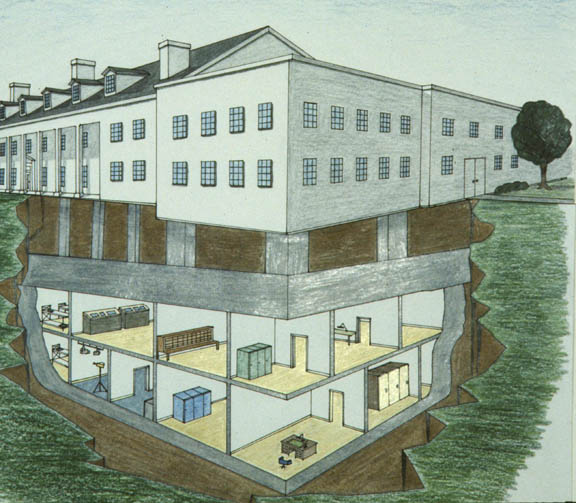 The Greenbrier bunker demonstrates the fact that not all bunkers are located in conspicious locations. Back in 1958 the United States government agreed to build the luxury hotel a brand new addition, in exchange they were also allowed to build a 120,000 square foot bunker beneath it.
The Greenbrier in Virginia, a mere 5-6 hour drive from Washington D.C., was a popular vacation destination for Washingtons elite. This location was at one time the destination for members of Congress, the Senate and their respective staff (up to 1100). This would mean that under the Continuity of Government plan, this location would have become the house and the senate. Codenamed "Project Greek Island", the bunker was filled with survival necessities. It included; 53 rooms, a 7500 square foot kitchen with 2 months of food, 18 dormitories which could sleep 60 people (each with toilets, shower and a small lounge), a 600 square foot medical clinic with 12 beds and an intensive care and operation room and all the radio and communications equipment needed to send messages to "survivors".
6. The Burlington Bunker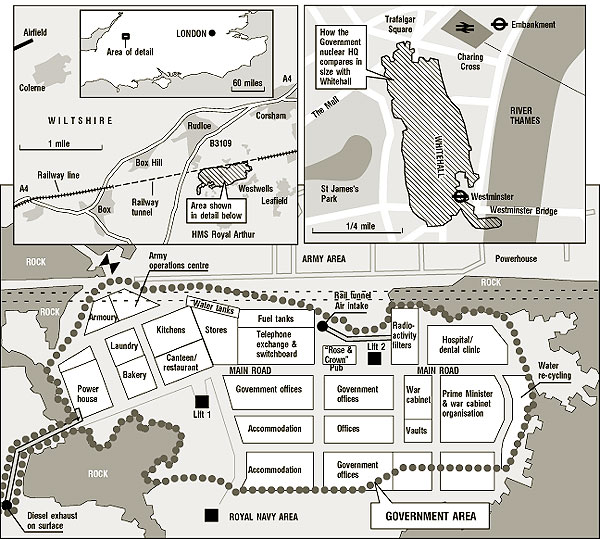 100 feet beneath the surface or Corsham, exists a 35 acre cold war city known as the Burlington Bunker. Code named "Burlington", the British government built this site in 1950 in case of nuclear strike and was intended to be the Emergency Government War Headquarters. The shelter was designed to accommodate 6,000 people for up to 3 months. And with the underground lake and water treatment facility, it is possible that people could live here much longer than that. You will see all the typically bunker equipment here, everything from an underground power station to communications equipment and even the second largest telephone exchange in Britain. The BBC would've broadcast emergency messages from this location.
The site was decommissioned in 2005.
7. Iron Mountain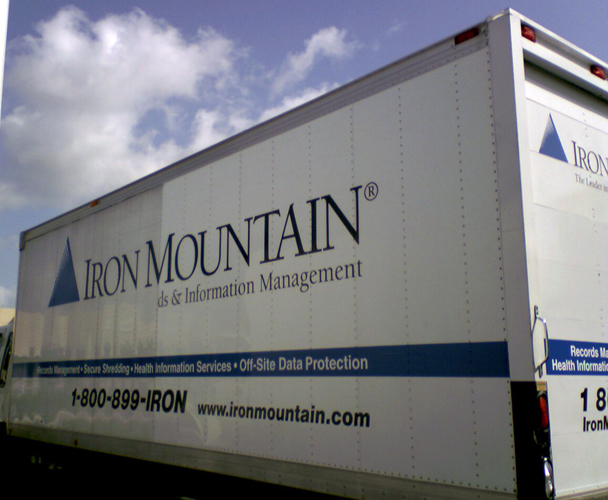 Yes, you have seen their trucks driving around, but Iron Mountain does in fact have an iron mountain. Or iron bunker under a mountain really.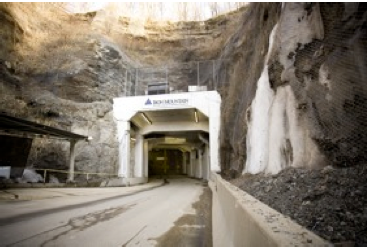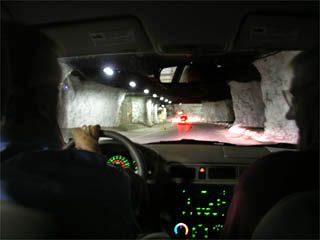 This facility, while not officially recognized as a survival bunker, could easily be viewed as one. Taking up 10,000 square feet of space in a 1,000 acre limestone mine, the Iron Mountain storage facility is massive and rumored to be one of the most secure locations in the world. Records were stored here as early as 1954 but in 1998 a private company called Iron Mountain Incorporated purchased the old mine.
Today everything from social security records to bill gates private collection is stored here. All of the most important records will be stored in the refrigerated archive at a cool -4 degrees. Records stored in this way could be preserved for thousands of years.
There is speculation that this facility would double over as a relocation center for Americas private industry moguls. The mine includes a 5 engine fire department, power generators, de-humidification, refrigeration and air filtration systems, an underground lake with water purification, as well as high tech sprinklers, plumbing and wiring throughout.
8. The Moscow Under-Underground
Unknown to most traveling the subways of Moscow, there is something more down there than just a basic transit system. There is a large subterranean system of secrets trains and bunkers beneath Moscow, most of which was built by Stalin during the Cold war (code named D-6). What we know about this facility is very little, mostly because there are few (if any) first hand accounts of a secret metro's existence. Interestingly, in 1991 the United States Department of Defense released a report saying this:
"The Soviets have constructed deep-underground both in urban Moscow and outside the city. These facilities are interconnected by a network of deep interconnected subway lines that provide a quick and secure means of evacuation for the leadership. The leadership can move from their peacetime offices through concealed entryways in protective quarters beneath the city. There are important deep-underground command posts in the Moscow area, one located at the Kremlin. Soviet press has noted the presence of an enormous underground leadership bunker adjacent to Moscow State University. These facilities are intended for the national command authority in wartime. They are estimated to be 200-300 meters deep, and can accommodate an estimated 10,000 people. A special subway line runs from some points in Moscow and possibly to the VIP terminal at Vnukovo Airfield(…)"
—Military forces in transition, 1991, p. 40
9) Ohio Class Submarine
Though designed as a way to ensure doomsday rather than survive it, after they launched their nukes the SSBNs would be some of the best places to be. The Ohio has 140 crew and 15 officers. 42ft wide and 560ft long, these beasts weigh 18,000 tons, or about as much as a WWII aircraft carrier.
But the important thing is this: they run off a nuclear reactor which only needs replacing once every 20 years or so. They produce their own water from desalinization facilities, and generally carry stores to go for a year or more without the need to replenish. Yes, you would need to surface once in a while for fresh air, but there are re-breathers to minimize that need.
In addition to being safe from just about everything in the world, you would have the advantage of an amazing array of communications platforms and build in technology. On the downside though, women were not allowed to serve on submarines until 2 years ago, and even today there are likely to be only one or two aboard any sub.... so... yeah, humanity will likely not make it very long if this is all we have left.
10) Google
Google would probably never think of itself as a doomsday bunker, but it is. You see, Google doesn't actually search the internet when it does its searches for you. It searches a downloaded copy of the internet it has on its own servers. This downloaded copy exists all over Google's data centers, and it is perhaps the single most important element in the human race being able to rebuild after doomsday. And the best part is? Google's data centers are often build to be largely off-grid, or at least capable of operating on their own.
Google has data centers all over the place, and importantly, they have them underground as well.
And the best part? Google bought a company working on building new, small, efficient nuclear reactors, and will soon be installing some of these mini-nukes around the world to ensure steady power supplies for its data centers.
So yes, a nuclear powered google will likely emerge as a new powerhouse of knowledge and of course porn after the world collapses.
11) Niue
Yes, this is meant to be a top 10 list, but I just had to throw this one in there. Niue is a self-governing rock in the middle of nowhere. It has about 100sq mi of land, and 1,400 or so inhabitants, almost all native Polynesian.
While you might think this would be a little bit like Lost, there would be no polar bears, smoke monsters, "others" or time travel (we assume). And unlike Lost, many of the inhabitants would know what to do with a small tropical island, as subsistence farming and fishing is still a way of life for most of the population.
Zombies would have trouble with the coral reef....
Also, all of Alofi and most of the other towns are covered with free wifi - so as long as someone has bothered to download all of wikipedia onto their computer, mankind will be pretty much good to go. Other than being stuck 1,000 miles from anywhere in the middle of the South Pacific..