Read on..
Welcome to Woot. Skip straight to the content or let us know if anything on our site can be improved to further meet your accessibility needs.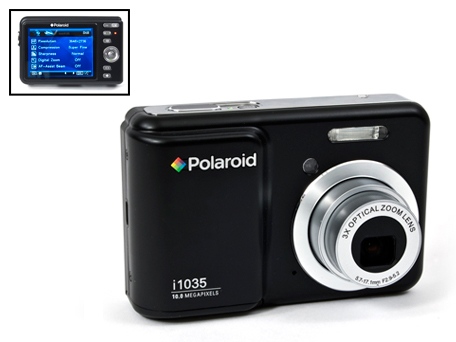 Polaroid i1035 10MP Digital Camera with 3" LCD
$59.99
Condition:

New

Product:

1 Polaroid i1035 Black 10MP Digital Camera with 3" LCD
Unmissed Connections
Hi Stephanie! Andy here, from high school! Can you believe it's been 18 years since we graduated? Those were some wild times, huh?
Isn't the Internet amazing? I spent all those years trying to find you and in five minutes on Friendbook, there you are! Remember the badger? Ha ha! I heard Mr. Zeller retired from teaching like two years later. He was pretty much a broken man. It wasn't so much the bite itself as the series of painful rabies shots that did it. Man, that was a great senior skip day.
Anyway, you're probably wondering why I sent you this package when we haven't seen or spoken to each other in years. Well, as thrilled as I was to add you to my Friendbook faces, I couldn't help but notice that your page doesn't have any pictures. I've been checking for months now hoping you'll add some, but nope. Then I realized, hey, maybe she just doesn't have a camera.
So enjoy this Polaroid i1035 with my compliments. It's nothing major, just a decent little point-and-shoot with 10MP resolution, 3x optical zoom, and a 3" LCD. The manual says it only takes SD cards up to 4GB, but I use mine with an 8GB card and it works just fine.
But there is one condition: you have to take some pictures of yourself and post them to your Friendbook! I mean, it's only polite to keep the old crew up to date on how you're doing these days. I'm dying to see if you still look the way I've imagined you all these years. Oh, you know what would be a hoot? If you wore your old tennis uniform. Just like old times!
Hey, I see by your profile that you're married now. That's great, really, congratulations. But please leave your husband out of the pictures. It's not his Friendbook page, right? I don't really care what he looks like, and if your romantic history is anything like mine, you'll be bitterly divorced in a few months anyway. Don't get me started on ex-wives, heh!
Now, if you need help on working this camera, or if you ever need somebody to change the batteries or insert the SD card, just give me a call. I'm only a 13-hour flight away. Otherwise, I'm looking forward to seeing those pictures. Really, really looking forward to it. Really.